Essence of Geeta by Swami Bodhatmananda
ESSENCE OF BHAGAVAD GEETA BY SWAMI BODHATMANANDA
3-4 APRIL In Manhattan, NY
5-7 APRIL in Long Island, NY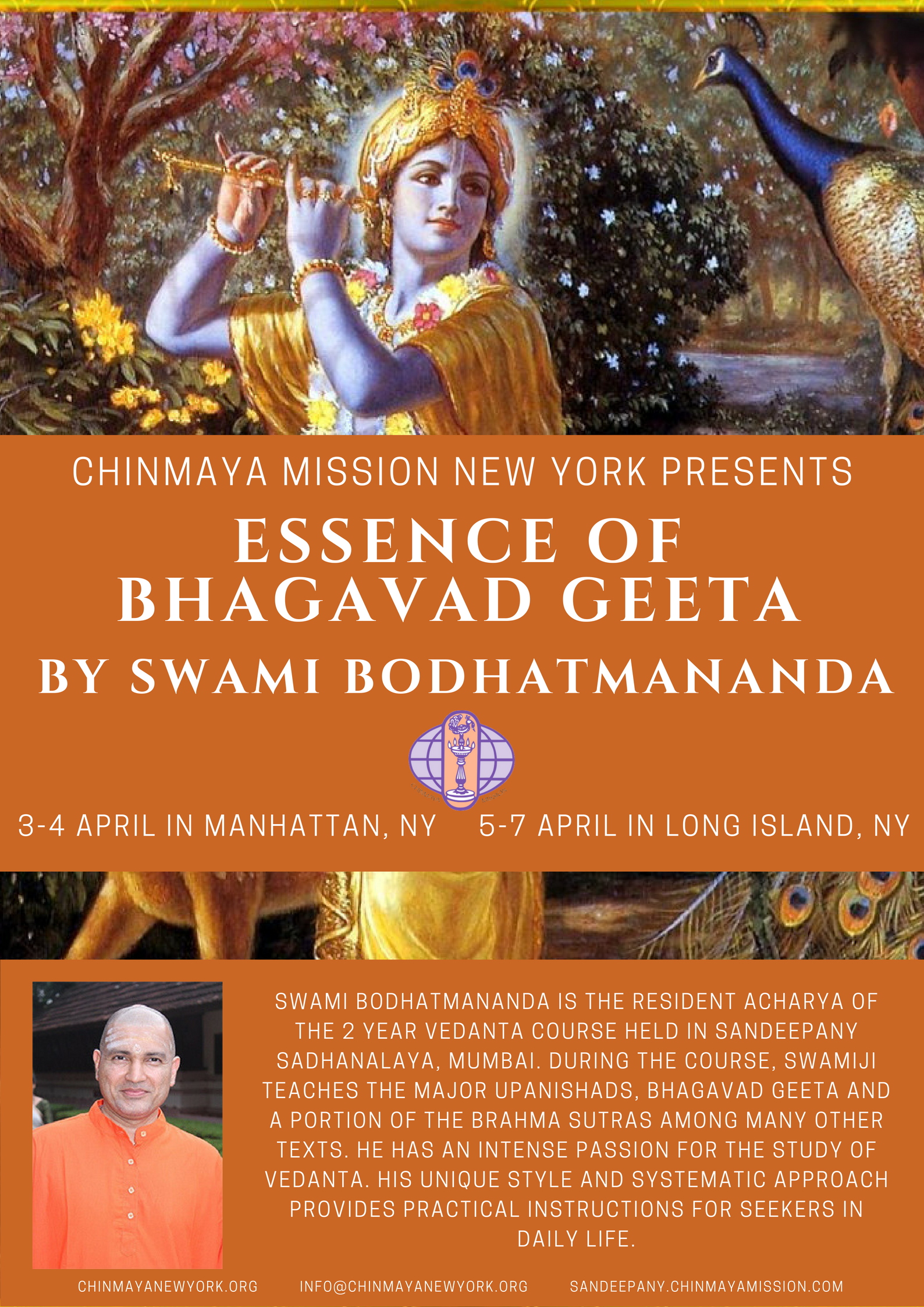 Swami Bodhatmananda is the resident acharya of the 2 year vedanta course held in sandeepany sadhanalaya, Mumbai. During the course, swamiji teaches the major upanishads, bhagavad geeta and a portion of the brahma sutras among many other texts. He has an intense passion for the study of vedanta. His unique style and systematic approach provides practical instructions for seekers in daily life.
Learn how to live independently and joyously amidst our very own battlefield. Join us as we dive into the Essence of the Bhagavad Geeta by Swami Bodhatmananda.
RSVP: http://www.chinmayanewyork.org/rsvp/
Time: 6.45pm – 8.15pm
MANHATTAN (3,4 April):
The Function Room
50 Riverside Blvd (Between 61st and 62nd street)
New York, NY 10069
Transportation:
Accessible via 1/2 Subway. Get off at 66th street Lincoln Center
*Parking is available at $20.00 for two hours.
Download the parking coupon from https://iconquikpark.com/
LONG ISLAND (5,6,7 April):
Vaishnav Temple Of New York
100,Lakeville Rd,New Hyde Park
NY 11040.
Please join us for this lecture series and share this information with your family and friends.
Contact: info@chinmayanewyork.org
Website: sandeepany.chinmayamission.com/ www.chinmayanewyork.org
RSVP: RSVP Now!