Retreat to Chinmaya, Trinidad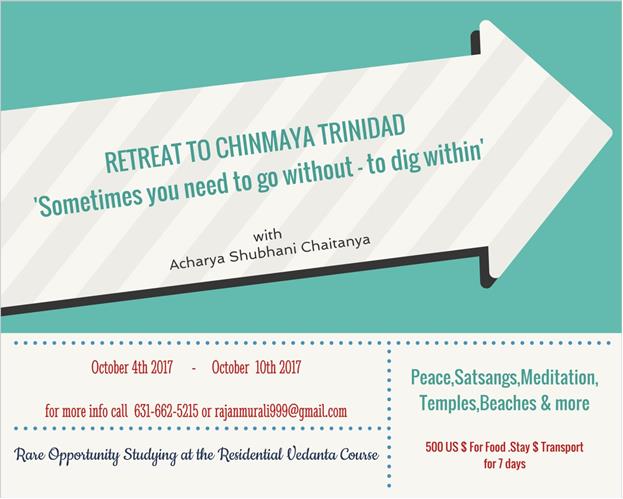 Chinmaya Mission NY is happy to organize a Retreat to Chinmaya, Trinidad with our Acharya Shubhani Chaitanya.
Itinerary –
A 7 day retreat on Columbus Day weekend 2017.Leaving New York on October 4th, 2017 (Wednesday) and Returning on October 10th, 2017 (Tuesday).
Accommodation –
We will be staying at the Chinmaya Mission Ashram, Trinidad & Tobago where we will have RARE opportunity to be a part of the 2 year Residential Vedanta course.
Activities –
Studying at the Vedanta Course
Satsangs with Acharyas
Visits to Temples and Beaches of Trinidad
And much more
Price–
500 US $/per person which includes accommodation, food and transportation during the retreat. Checks must be made to Chinmaya Mission New York to reserve your spot.
Only 20 seats available. Kindly enroll at the earliest and book the ticket before flight ticket cost rises.
Please email ,or call murali rajan 631 662 5215 for any further information.
Registration Form:
http://www.chinmayanewyork.org/chinmaya-trinidad-retreat-signupform/
Our Gratitude to the Guru for the Knowledge entrusted on us cannot be compensated by any means, but as a token of Gratitude by Guru Dakshina.
Flight Options
*Flight from New York to Trinidad to be purchased additionally by the seekers.
Jet Blue Airways Flight 1817 Departs 10:10 AM Wed Oct 4 New York ( JFK )
Arrival 3:11 PM Wed Oct 4 Port Of Spain (POS)
Return
Jet Blue Airways Flight 1818 Departs 4:12 PM Tue Oct 10 Port of Spain (POS)
Arrival 9:28 PM Tue Oct 10 New York (JFK)
Note : Port of Spain is the international Airport for the Island of Trinidad and Tobago,
The Flight Ticket as checked today cost 340 US $.
Please check with the Trinidad & Tobago Consulate for any VISA Requirements.
Address in New York
125 Maiden Lane , 4th floor
New York
NY 10038
Phone 212 682 7272