Acharya Shubhani Chaitanya, Resident Acharya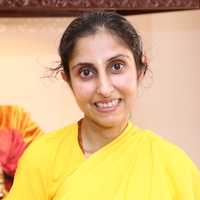 Shubhani Chaitanya came into Chinmaya Mission as Bala Vihar child in Manila, Philippines. In her youth, she moved to New York, USA along with her family. She studied at the Fashion Institute of Technology in New York City where she graduated with a Bachelor's Degree in International Trade and Marketing. After working in the fashion industry for around 7 years, she joined the YEP (Youth Empowerment Program) in Kolwan, Vibhooti and served Chinmaya Mission in both India and the US in various projects such as: writing/editing books, organizing camps, teaching in schools etc. As an active member of Chinmaya Yuva Kendra, she also conducted study groups in the New York area. She was the administrator for the first YEP in the US and assisted in the script-writing of Pujya Gurudev's movie – On a Quest. She just recently completed the Vedanta course in Sandeepany Sadhanalaya where she was initiated as Shubhani Chaitanya. She brings a natural wisdom and compassion to her classes and loves sharing with people the Science of Happiness that is Vedanta.
Late Acharya Krishna Moorthy, Founding Acharya
Acharya Brahmachari Krishna Moorthy, lovingly called "Swami in White" by Revered Gurudev and his students, was an accomplished scholar of Advaita Vedanta (the highest knowledge of the Hindu Scriptures). He always inspired his audiences by his lectures on religious & cultural topics and successfully held several responsible executive positions under the Chinmaya Mission umbrella since 1963.
An ace executive engineer by background, Acharya Krishna Moorthy, was a pleasant and dynamic personality. He was a powerful, inspirational speaker who delivered all philosophical and spiritual topics in a simple, logical, and often humorous manner.
Acharyaji successfully conducted numerous lecture series, seminars, workshops and meditation sessions for all age groups. Students enjoyed his presentations on the various Indian philosophy books, such as Prakarana Granthas (introductory text books), The Bhagavad Gita and the Upanishads. His devotional chanting was highly elevating.
Acharyaji wrote many articles, drew several cartoons to communicate Vedanta to the masses. He was a regular and popular speaker on RBC radio addressing the listeners on religious, social and communal issues and problems.
He had represented Hinduism at the United Nations Interfaith Prayer meeting in 2004.
Acharyaji conducted Vedanta classes at various locations. He also conducted private and public prayer and meditation services, and consuls on Indian rituals and pujas.
Acharya Krishna Moorthy was dedicated to serving the community. Our dear and respected Acharya Krishna Moorthy, passed away peacefully at 5.41 pm on Friday May 31st 2013, at Lenox Hill Hospital in New York City.